Last weekend, I attended my first startup weekend and I had an incredible crazy experience.
Before this event, I was quite overwhelming, especially when I was asked to choose the type (tech, design, non-tech) I would like to attend. Because I had little knowledge about technical, design and marketing. Although I was familiar with technical things, and could write some simple code, I still chosen a non-tech ticket.
There were over 50 people appeared on the first night. Half developer, half marketing. After  'pizza dinner', 25 ideas finally pitched. Then I talked to some of the team leaders and voted. After top ideas picked, I joined a team called loyally. The reason for that was I was doing the similar things at the moment, helping small business to grow better in the digital world. Our goal was to build up an app to replace the paper loyalty card and analysis customers' data. Apart from me, we got 3 marketing people and 1 android developer.
We brainstormed about this idea and drafted the famous business model canvas. It was my first time to get canvas done.
We finished around 12.00 on Friday. When I went back home, and couldn't sleep. I built a landing page powered by WordPress and Launch Effect and run it on my Mac.
I went back and grabbed a coffee after 3 hours' sleep. My landing page was kindly and silently rejected by the team leader. This job was transferred to another marketing teammate using shinning Unbounce although she didn't even know it. I was a little bit disappointed but I felt great coz I knew how to set up and test a WordPress website on local through this.
Three of us got out of the building, including me. We started at the coffee shop downstairs and finally chatted with 12 people in independent shops before lunch. I wasn't contributed too much on this, I just talked to one assistant. After lunch, I set up the free domain and we got google app as corporate tool. We talked with a mentor and got quite excited about the data we might got and what we could do with that. So I suggested I could build up a mock-up of this data analysis platform.
Then I spent the rest of the day building this website using html5 & bootstrap. At end of the day, we got a website, a landing page, a sign in screen of android app, some twits...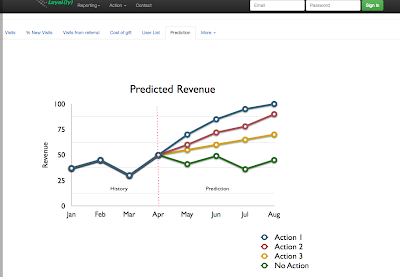 Then our team leader worried about the hard part of data analysis, the reach of customers and financing model. We ended up with confuse.
Sunday was the last day. The moral of our team went down and down, because the team leader decided to shift the idea and abolished the data thing. Our selling point became the referral and sharing. I felt disappointed  because I was quite fancy about the data idea even it's hard to deal with. But I didn't speak out  this because I was really tired and kind of lost. Then we discussed the approaches and financing models based on the assumptions rather than validated truth. I couldn't believe the leader say he was thrilled after a shitty morning. Everyone went back to the comfort zones. Marketing people started to think about key words, promotion, marketing strategies... Our developer still focused on his android app. And I went back to modify my website. I almost lost my enthusiasm.
Time flies, and we failed at the trial presentation. The presentation was really boring and unclear. The final pitch started soon after this. Our final modified presentation was presented by another teammate. Unfortunately, there was some problem with projection. Our App demo basically went well. Obviously our project didn't get the attention and the interest of judges. I could see from their faces and questions.
We could not win the battle. Winner was the team who built up the prototype app and hardware to control the growing of plants in pot. I liked the idea, it's the future.
However, I was surprised about what we could build up within just two days. The last time I worked so hard was the day before the deadline of my dissertation. I really liked the startup atmosphere, impressed by the energy and the enthusiasm people showed.
Lessons Learned

:
1.
Simple
At the end, a clear story should be told. What's problem and what's solution? I saw one team showed a complicated prototype, which was interesting, but hard to get the point.
2. Team
I think our team was quite balanced. And we were all hard-working. The problem was, we could not corporate well. Almost everyone was doing their own things. There was little communication between the marketing teammates and the developer. The team leader didn't show enough enthusiasm and optimisation.
3. Track
Initially, we partly focus on the inconvenience of  having so many loyalty cards in wallet / losing cards etc. But that is the problem of consumers, and we wanted to get the money from business. There was a gap here. We couldn't solved this well. What we focus on in the last few hours was kind of off rail. We didn't go back to the business model canvas, I think that's why we jumped a lot.
4. Validation
We didn't do the validation on Sunday. We just got off the building once and built up something based on a unclear idea. The winner got a very 'M' product, but they had got more than 10 people to pre-order their unfinished product.
5. Skill
I should learn about web development, as well as interpersonal skills.
Tools used:
1.
Amazon web service
(free from sponsor, little bit complicated)
2. Go.co (free from sponsor, nice UI)
3. Google App (free from sponsor)
3. Unbounce (powerful but pricy)
4. Launch Effect (I kinda like it)
5. Sparkol (free trial, create animation video)
6. Jing (screenshot, recording)
7. Great workspace and food from TechHub
---